FOR 20 YEARS, THE MSI-FAS GROUP HAS BEEN AT THE SERVICE OF VETERINARIES TO SUPPORT AND ADVISE THEM IN THEIR MEDICAL IMAGING EXAMINATIONS.
DISCOVER OUR ACTIVITY AND OUR SERVICES IN VETERINARY DIGITAL IMAGING
ADVICE FROM A SPECIALISED APPROVED DISTRIBUTOR
FAS – a leader in the field of veterinary medical imaging in France – offers a comprehensive range of imaging equipment incorporating cutting-edge technology. We provide our expertise to facilitate your medical examinations of animals and increase the comfort of your working environment. As an official distributor for our brands in France, you will benefit directly from manufacturers' technical support.
INNOVATIVE TECHNOLOGY FROM LEADING NAMES IN MEDICAL IMAGING
By offering you the leading names for your equipment, we provide you with performance and guaranteed benefits from your investment. Our goal is to provide you with bespoke solutions that meet your expectations and enable you to provide the highest level of care.
DIGITAL RADIOLOGY
The digital equipment we supply as a leader in this field in France will enable you to perform your radiology operations with the utmost ease. Your images will be produced in seconds. You will be able to perform medical examinations and provide care to animals in your clinic faster. Customer satisfaction will be your strong point.
ULTRASONOGRAPHY
With a comprehensive range of Philips, Canon and Sonosite ultrasound devices for veterinary imaging, you will be able to benefit from technology to suit your needs.
SCANNERS AND MRI MACHINES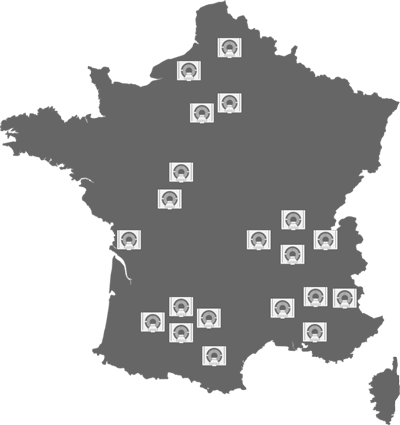 With Philips & Canon scanners and Canon MRI machines, discover all the benefits of renowned advanced technology for your veterinary imaging. Our equipment, designed first and foremost for accurate diagnoses, can easily be installed in a veterinary facility to fulfil the most stringent medical requirement. Our veterinary clients – specialists and referents in their field – are able to share their experience to help you too to successfully complete your project.
UNIQUE AFTER-SALES SERVICE IN FRANCE WITH EQUIPMENT ENTIRELY FROM MANUFACTURERS
Our approach is based on a desire to provide you with unbeatable after-sales service that is sustained over time. This is why every imaging device is produced entirely by the same manufacturer. Why? To guarantee that your equipment operates optimally, provide high-quality services and peace of mind, and ensure long-term benefits from your investment. You will benefit from certified after-sales service.